Dieser Heiratsindex ist als Hilfsmittel für meine eigene Forschung entstanden. Leider war die Handschrift des Pastors in Trebnitz bis 1792 nur extrem schwierig zu lesen, weshalb mir sicherlich viele Fehler unterlaufen sind. Dennoch möchte ich diesen Index hier veröffentlichen, um es anderen Forschern etwas einfacher zu machen und vielleicht auch den einen oder anderen Zufallsfund zu bescheren. Die Jahre 1766-1767 und 1793-1827 sind bei Geneteka indexiert.
Index of the Protestant marriages of Trebnitz (Trzebnica) 1768-1792
This marriage index was created as a research aid for my own research. Sadly, the handwriting of the pastor or Trebnitz was extremely difficult to read until 1792, which is why I surely made a lot of mistakes. Nonetheless, I would like to publish this index here in order to make things a little bit easier for other genealogists. The years 1766-1767 and 1793-1827 are indexed on Geneteka.
Indeks małżeństw ewangelickich z Trebnitz (Trzebnica) 1768-1792
Ten indeks małżeństw został stworzony jako pomoc naukowa dla moich własnych badań. Niestety pismo pastora z Trebnitz do 1792 roku było bardzo trudne do odczytania, dlatego też z pewnością popełniłem wiele błędów. Mimo to chciałbym opublikować ten indeks tutaj, aby ułatwić pracę innym genealogom. Lata 1766-1767 i 1793-1827 są zindeksowane na Geneteka.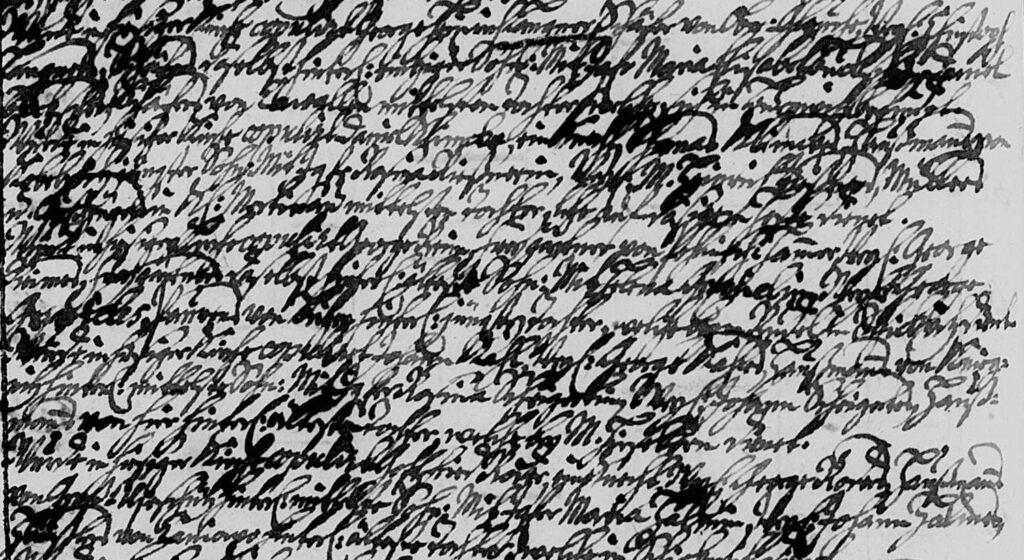 | | | |
| --- | --- | --- |
| Bräutigam | Braut | Nummer/Jahr |
| Lilge | Zücher | 1/1768 |
| Eckert | Tilgner | 2/1768 |
| Scholtze | Tirocke | 3/1768 |
| Kübner | Frost | 4/1768 |
| Nordheim | Liebe | 5/1768 |
| Saßner | Reimann | 6/1768 |
| Winckler | Kühn | 7/1768 |
| Ulmann | Wolff | 8/1768 |
| Mincke | Bruck | 9/1768 |
| Kämpe | Grzemiole | 10/1768 |
| Milde | Meinert | 11/1768 |
| Kroner | Beyrer? | 12/1768 |
| Grzase? Orzase? | Roßmann | 13/1768 |
| Fräntzel | Becker | 14/1768 |
| Bischhoff | Hoffmann | 15/1768 |
| Flöter | Bischhoff | 16/1768 |
| Tirok | Gerschmähl | 17/1768 |
| Günter | Golätschke | 18/1768 |
| Dammas | Sommer | 19/1768 |
| Zawe | Kirsch | 20/1768 |
| Mitmann | Schmied | 21/1768 |
| Taubergast | Springer | 22/1768 |
| Behschnit | Zölner | 23/1768 |
| Dräscher | Virtel | 24/1768 |
| Matzke | Gerschmähl | 25/1768 |
| Hämmppe | Schilder | 26/1768 |
| Kruppe | Hantsche | 27/1768 |
| Wiedersich | Speck | 28/1768 |
| Golnau | Wancke | 1/1769 |
| Rudel | Ruschig | 2/1769 |
| Müller | Gradauf | 3/1769 |
| Grimmer? | Kifelt | 4/1769 |
| Armon | Ludwig | 5/1769 |
| Tilgner | Becker | 6/1769 |
| Paltz | Schmidt | 7/1769 |
| Scharff | Stache | 8/1769 |
| Nitschke | Schreiber | 9/1769 |
| Reim | Stebitzke | 10/1769 |
| Tirok | Scheigert | 11/1769 |
| Spiller | Döring | 12/1769 |
| Herrmann | Tißler | 13/1769 |
| Wilde | Tittrich | 14/1769 |
| Springer | Pflaume | 15/1769 |
| Berger | Virtel | 16/1769 |
| Kniche | Münch | 17/1769 |
| Meywald | Garbisch | 18/1769 |
| Tirok | Stock | 19/1769 |
| Proschinsky | Halsig? | 20/1769 |
| Dammaß | Virtel | 21/1769 |
| Hämmppe | Scheigert | 22/1769 |
| Viehback | Korsch | 23/1769 |
| Schmidt | Weber | 24/1769 |
| Stock | Drescher | 25/1769 |
| Kruppe | Sternitzke | 26/1769 |
| Fischer | Stahr? Stahn? | 27/1769 |
| Wäbe | Tirocke | 28/1769 |
| Ibscher | Krantz | 29/1769 |
| Münch | Langner | 30/1769 |
| Gluche | Hempe | 31/1769 |
| Marticke | Koschmieder | 1/1770 |
| Dirbisch | Ibscher | 2/1770 |
| Lange? Konze? | Winckler | 3/1770 |
| Eschrig | Kahl | 4/1770 |
| Stache | Kley? | 5/1770 |
| Brosock | Herrloff? | 6/1770 |
| Kogl? | Langner | 7/1770 |
| Gampert | Müller | 8/1770 |
| Schäfer | Langer | 9/1770 |
| Matzke | Wandel | 10/1770 |
| Kamintzky | Fabisch | 11/1770 |
| Binder | Hippe | 12/1770 |
| Dammer | Ratsch | 13/1770 |
| Bäschel | Kenner? | 14/1770 |
| Sander | Tirocke | 15/1770 |
| Müntzenberger | Tauchmann | 16/1770 |
| Kessel | Zwilling | 17/1770 |
| Zośnik | Ritter | 18/1770 |
| Reimann | Bachmuth | 19/1770 |
| Kordele | Knur | 20/1770 |
| Otto | Schwartz | 21/1770 |
| Garbisch | Kothe | 22/1770 |
| Wandel | Kirchner | 23/1770 |
| Brober | Pauser | 24/1770 |
| Peuckert | Conrat | 1/1771 |
| Karsch | Grzemiel | 2/1771 |
| Reichelt | Gotter | 3/1771 |
| Virtel | Scholtz | 4/1771 |
| Bäsche Bresche | Wyschobitzke? | 5/1771 |
| Kugler? | Scholtze | 6/1771 |
| Fröde | Roßdeutshcer | 7/1771 |
| Müntzenberger | Findeklee | 8/1771 |
| Breßkott | Hahn | 9/1771 |
| Wollny | Vollner Wollner | 10/1771 |
| Stahn | Frichte? | 11/1771 |
| Ross | Nitschke | 12/1771 |
| Schäffler | Krause | 13/1771 |
| Garstelle | Schmidt | 14/1771 |
| Opitz | Hantsche? | 15/1771 |
| Bittner | Micke | 1/1772 |
| Müller | Danner | 2/1772 |
| Heintke | Zöllner | 3/1772 |
| Schigot | Kayser | 4/1772 |
| Grammatte | Schmude | 5/1772 |
| Buße | Kammer | 6/1772 |
| Janisch? | Ziskale | 7/1772 |
| Fischer | Mader | 8/1772 |
| Labertin? | Mircke | 9/1772 |
| Grzmiely | Pittwohn | 10/1772 |
| Grunde? Gruck? | Jonas | 11/1772 |
| Riediger | Verleyse? | 12/1772 |
| Reinisch | Schade | 13/1772 |
| Scholtz | Gembuss | 14/1772 |
| Frömde | Stache | 16/1772 |
| Viehback | Schigert | 17/1772 |
| Benothe | Müntzer | 18/1772 |
| Damaß | Viehback | 19/1772 |
| Rudolph | Hoffmann | 20/1772 |
| Virtel | Maschowski | 21/1772 |
| Laberdin? | Reimann | 22/1772 |
| Wäber | Marx | 23/1772 |
| Herberger | Meinert | 24/1772 |
| Koschel | Garbisch | 25/1772 |
| Hempe | Hansch | 26/1772 |
| Tyrocke | Fabisch | 27/1772 |
| Anders | Münch | 1/1773 |
| Pflaumer | Pitsch | 2/1773 |
| Konschacke | Schilder | 3/1773 |
| Kahle | Obst | 4/1773 |
| Schaffer | Füchte | 5/1773 |
| Beckmayer | Stahn | 6/1773 |
| Gembus | Hübner | 7/1773 |
| Hempe | Patriarch | 8/1773 |
| Kayser | Philipp | 9/1773 |
| Mentzel | Kitschelt | 10/1773 |
| Schmiegel | Wandel | 11/1773 |
| Mentzel | Garbisch | 12/1773 |
| Gortzitze | Poßnanski | 13/1773 |
| Brussocke | Kammer | 14/1773 |
| Nitschke | Sternitzke | 15/1773 |
| Oelberg | Zimmermann | 16/1773 |
| Hähnel | Teichmann | 17/1773 |
| Rupprecht | Hintke? | 18/1773 |
| Heine | Rudel | 19/1773 |
| Körnig | Virtel | 20/1773 |
| Zośnik | Matschofski | 21/1773 |
| Kaminsky | Renner | 22/1773 |
| Zebrantke | Maß? May? | 23/1773 |
| Sander | Tyrocke | 1/1774 |
| Meywald | Schachmann | 2/1774 |
| Stahr | Liebich | 3/1774 |
| Hoppe | Stolze | 4/1774 |
| Rüdiger | Scholtz | 5/1774 |
| Lober | Findeklee | 6/1774 |
| Krause | Kirsch | 7/1774 |
| Tinnibel | Garbsch | 8/1774 |
| Kahle | Polack | 9/1774 |
| Kessel | Hempe | 10/1774 |
| Stahr | Wilde | 11/1774 |
| Taumel? | Matzke | 12/1774 |
| Hellmuth | Pauser | 13/1774 |
| Zimmer | Kamintzki | 14/1774 |
| Bernothe | Flöther | 15/1774 |
| Lachmann | Seiffert | 16/1774 |
| Thiele | Polack | 17/1774 |
| Ritter | Tilgner | 18/1774 |
| Rothkirch | Taubergast | 19/1774 |
| Opitz | Wandel | 20/1774 |
| Tschepe | Ruschig | 21/1774 |
| Fabisch | Grzmiele | 22/1774 |
| Ibscher | Kupke | 23/1774 |
| Poßnanske | Kluge | 24/1774 |
| Herbst | Bittner | 25/1774 |
| Becker | Berger | 26/1774 |
| Goldmann | Bucksch | 1/1775 |
| Mache | Mader | 2/1775 |
| Halm | Janetzke | 3/1775 |
| Seeliger | Zoch? Zeit? | 4/1775 |
| Gutzsche? | Pache | 5/1775 |
| Gluche | Barane | 6/1775 |
| Lorentz | Matzke | 7/1775 |
| Prowatschke | Mithmann Mittmann | 8/1775 |
| Pauser | Schubert | 9/1775 |
| Stahn | Feyge Feige | 10/1775 |
| Mischke | Labitzke | 11/1775 |
| Reschinski | Schiwilcke Schiwilke | 12/1775 |
| Arends | Schmied | 13/1775 |
| Körnig | Prowatschke | 14/1775 |
| Ameiß | Binder | 15/1775 |
| Labitzke | Mickule | 16/1775 |
| Herbst | Cretius? Grotius? | 17/1775 |
| Schnosch? | Schreier | 18/1775 |
| Kordele | Pache | 19/1775 |
| Grabe | Barane | 20/1775 |
| Stache | Müntzer | 21/1775 |
| Seeliger | Böhme | 22/1775 |
| Christi | Pfitzner | 23/1775 |
| Mickule | Matzke | 24/1775 |
| Hillert | Knur | 25/1775 |
| Schnelehe??? | Schwirre? | 26/1775 |
| Blau | Scholtz | 27/1775 |
| Garbisch | Saußner | 28/1775 |
| Scholtze | Schiffke? Schiffge? | 1/1776 |
| Friedrich | Pittwohne | 2/1776 |
| Schreiber | Stache | 3/1776 |
| Rudel | Irzdorff? Irdorff? | 4/1776 |
| Hilscher | Richter | 5/1776 |
| Tyrocke | Hempe | 6/1776 |
| Liste? Liske? | Bernothe | 7/1776 |
| Tußler? | Feige | 8/1776 |
| Fischer | Koschmieder | 9/1776 |
| Baldhoff | Kegel | 10/1776 |
| Ach | Virtel | 11/1776 |
| Virtel | Stock | 12/1776 |
| Wieder | Schubert | 13/1776 |
| Goldmann | Stache | 14/1776 |
| Berger | Girschmann | 15/1776 |
| Halm | Viehback | 16/1776 |
| Joniec | Müller | 17/1776 |
| Wolff | Kupke | 18/1776 |
| Binerth | Koschmieder | 19/1776 |
| Kirsch | Viehback | 20/1776 |
| Sackatsch? | Becker | 21/1776 |
| Philip? Wiliers? | Rippert | 22/1776 |
| Tilaner | Jantke | 23/1776 |
| Lindeblatt | Hindeloke? | 24/1776 |
| Poßnanske | Breßgott | 25/1776 |
| Gerlich | Maretzke | 26/1776 |
| Tirocke | Hempe | 27/1776 |
| Kiebl? | Kossel? | 28/1776 |
| Schreiber | ?? | 29/1776 |
| Last? | Mąder | 30/1776 |
| Wandel | Konschacke | 31/1776 |
| Frost | Müller | 32/1776 |
| Kitschke | Becker | 33/1776 |
| Verbehr? | Junggaß | 34/1776 |
| Virtel | Boode | 35/1776 |
| Brußocke | Kudel | 36/1776 |
| Kluge | Buttermilch | 37/1776 |
| Wuttge | Böhme | 38/1776 |
| Kothe | Scholtz | 39/1776 |
| Jacob | Kuntze | 40/1776 |
| Nase | Nierode | 41/1776 |
| Schneider | Heinhalt | 1/1777 |
| Wiehl | Ruschig | 2/1777 |
| Flöther | Weigarth | 3/1777 |
| Michalcke | Riegert | 4/1777 |
| Galetschke | Stock | 5/1777 |
| Schmidt | Virtel | 6/1777 |
| Gallwitz | Rudel | 7/1777 |
| Diettrich Dietrich | Schaffer | 8/1777 |
| Schmude | Mircke | 9/1777 |
| Ullmann | Jäkel? Zäpel? | 10/1777 |
| Hanisch Hansche | Tießler | 11/1777 |
| Gerlich | Eichner | 12/1777 |
| Thiele | Reichert | 13/1777 |
| Meinert | Zimmer | 14/1777 |
| Keul Keil | von Salisch | 15/1777 |
| Hempe | Hempe | 16/1777 |
| Hast | Nitschke | 17/1777 |
| Seeliger | Sternitzke | 18/1777 |
| Garbisch | Konschacke | 19/1777 |
| Langner | Bucksche? | 20/1777 |
| Klimcke | Rießner | 21/1777 |
| Reim | Grzemiel | 22/1777 |
| Kahle | Scheigert | 23/1777 |
| Rode | Halm | 24/1777 |
| Barane | Kayser | 25/1777 |
| Malschowsky | Knur | 26/1777 |
| Schreiber | Dickmann | 27/1777 |
| Reim | Wandel | 28/1777 |
| Zavor | Hoffmann | 29/1777 |
| Kirsch | Gigol? | 30/1777 |
| Malschowsky | Zośnik | 31/1777 |
| Irdorff | Sternitzke | 32/1777 |
| Breßgott | Schilder | 33/1777 |
| Reim | Grundmann | 1/1778 |
| Kupke? | Hempe | 2/1778 |
| Hein Heine | Kupke | 3/1778 |
| Hempe | Vogt | 4/1778 |
| Heinrich | Rudel | 5/1778 |
| Buße | Bernothe | 6/1778 |
| Günther | Grude | 7/1778 |
| Kliche | Tyrocke | 8/1778 |
| Koschmider | Eckert | 9/1778 |
| Kupke | Schmude | 10/1778 |
| Wieschulke | Prowatschke | 11/1778 |
| Rost | Stiller | 12/1778 |
| Neumann | Ay | 13/1778 |
| Petzold | Findeklee | 14/1778 |
| Kloßmann | | 15/1778 |
| Roßbander | Matzke | 16/1778 |
| Pfeniger | Stache | 17/1778 |
| Hoffmann | Bernothe gesch. Siegel? | 18/1778 |
| Reichelt | Brussocke | 19/1778 |
| Imbscher | Roßbander | 20/1778 |
| Roßbander | Süßmann | 21/1778 |
| Zośnik | Reißner | 22/1778 |
| Malschowsky | Scholtz | 23/1778 |
| Bartnick | Böhme | 24/1778 |
| Rudel | Sternitzke | 25/1778 |
| Peuckert | Kluge | 26/1778 |
| Kirtelt? | Kühnel | 27/1778 |
| Reim | Hempe | 28/1778 |
| Meßner | Pache | 29/1778 |
| Grzmiale | Mareze | 30/1778 |
| Kuner | Nitschke | 31/1778 |
| Lachmann | Müller | 32/1778 |
| Zachantke | Scholtz | 33/1778 |
| Liebisch | Tyrocke | 34/1778 |
| Kayser | Scheigert | 1/1779 |
| Gutt | Mickule | 2/1779 |
| Schmecht | Knur | 3/1779 |
| Kupke | Stürtzner | 4/1779 |
| Broßocke | Hübrich | 5/1779 |
| Bucksch | Viehback | 6/1779 |
| Meywald | Klapper | 7/1779 |
| Stache | Kabischke | 8/1779 |
| John | Bernothe | 9/1779 |
| Krol | Labestin | 10/1779 |
| Soomer | Hillmann | 11/1779 |
| Stahn | Mätzke | 12/1779 |
| Willner? | Hille | 13/1779 |
| Scholtz | Gutt Guttsche | 14/1779 |
| Schöbel | Joniec | 15/1779 |
| Meinert | Kammer | 16/1779 |
| Taubergast | Nitschke | 17/1779 |
| Knoblauch | Garbsch | 18/1779 |
| Brussocke | Roßdeutscher | 19/1779 |
| Grzmialy | Kiefer | 20/1779 |
| Schwartz | Matzke | 21/1779 |
| Staffetzky | Stache | 22/1779 |
| Sternitzky | Bernothe | 23/1779 |
| Schmude | Tyrocke | 24/1779 |
| Baumert | Kotschote | 25/1779 |
| Knurr? Kauer? | Pittwohne | 26/1779 |
| Barrabaß | Züche | 27/1779 |
| Konschake | Buttermilch | 1/1780 |
| Galisch | Virtel | 2/1780 |
| Harting | Galisch | 3/1780 |
| Krantz | Matzke | 4/1780 |
| Leopold | Hase | 5/1780 |
| Stock | Pittwohne | 6/1780 |
| Jäschke | Nitschke | 7/1780 |
| Gerlich | Bergel | 8/1780 |
| Glantzdorff | Knie | 9/1780 |
| Sternitzky | Meßner | 10/1780 |
| Langer | Mittmann | 11/1780 |
| Nitschke | Kayser | 12/1780 |
| Böhme | Roßdeutscher | 13/1780 |
| Rößner | Käufer? | 14/1780 |
| Halm | Kamintzki | 15/1780 |
| Ernst | Jantke | 16/1780 |
| Bucksch | Seeliger | 17/1780 |
| Schmidt | Förster | 18/1780 |
| Wirth | Nitschke | 19/1780 |
| Brußoke | Stentzel | 20/1780 |
| Ebert | Îbscher | 21/1780 |
| Döring | Galotschke | 22/1780 |
| Taubergast | Hübscher | 23/1780 |
| Jänisch | Mohaupt | 24/1780 |
| Virtel | Buncke | 25/1780 |
| Wolff | Münch | 26/1780 |
| Scholtz | Kiefel | 27/1780 |
| Hempe | Langner | 28/1780 |
| Janisch | Pache | 29/1780 |
| Marx | Kayser | 30/1780 |
| John | Matzke | 31/1780 |
| Fengler | Subert? | 32/1780 |
| Seydel | Zöllner | 33/1780 |
| Majątke | Schilder | 34/1780 |
| Häußler | Matzke | 35/1780 |
| Tyrocke | Tischer | 1/1781 |
| Berger | Mithmann | 2/1781 |
| Nothenstein | Stock | 3/1781 |
| Nowack | Gotter | 4/1781 |
| Nitschke | Häntke | 5/1781 |
| Habiers? | Häußler | 6/1781 |
| Mickule | Kotschote | 7/1781 |
| Liebethal | Michel | 8/1781 |
| Milde | Garbsch | 9/1781 |
| Biegaly | Göllner | 10/1781 |
| Vater | Brußocke | 11/1781 |
| Liebich | Krause | 12/1781 |
| Schmude | Stock | 14/1781 |
| Herdam | Vater | 15/1781 |
| Jacob | Berger | 16/1781 |
| Klimpel | Zwilling | 17/1781 |
| Bossock | Sternitzke | 18/1781 |
| Präusse | Mithmann | 19/1781 |
| Schröter | Zihle? | 20/1781 |
| Majątke | Seydel | 21/1781 |
| Gleich | Matzke | 22/1781 |
| Fischer | Rein | 23/1781 |
| Rudel | Kamintzki | 24/1781 |
| Kupke | Stiller | 25/1781 |
| Vogt | Kupke | 26/1781 |
| Sternitzky | Saußner | 27/1781 |
| Barrabas | Surelle | 28/1781 |
| Ratsch | Bischoff | 29/1781 |
| Münch | Krause | 30/1781 |
| Volcker | Rase | 31/1781 |
| Rother | Stober | 32/1781 |
| Rudel | Kupke | 1/1782 |
| Jägerfeld | Voller? Volker? | 2/1782 |
| Kahr? | Poßnanski | 3/1782 |
| Zośnik | Koschel | 4/1782 |
| Brussocke | Ziśkale | 5/1782 |
| Rost | Ritter | 6/1782 |
| Weiß | Züche | 7/1782 |
| Troche | Stiller | 8/1782 |
| Puder | Hansch | 9/1782 |
| Prauße | Brode | 10/1782 |
| Dittrich | Roßbander | 11/1782 |
| Mickule | Werner | 12/1782 |
| Ossig | Staffetzke | 13/1782 |
| Reimann | Werner | 14/1782 |
| Vieber? Viehweg? | Poßnanski | 15/1782 |
| Kordele | Rudel | 16/1782 |
| Mandel | Stulver? | 17/1782 |
| Kamke? | Münch | 18/1782 |
| Gölich? | Rost | 19/1782 |
| Labitzke | Grammatte | 20/1782 |
| Klapper | Bittermann | 21/1782 |
| Poßnansky | Tyrocke | 22/1782 |
| Neumann | Tießler | 1/1783 |
| Hoffmann | Zośnik | 2/1783 |
| Pruser | Rabisch | 3/1783 |
| Münch | Mircke | 4/1783 |
| von Diebitsch | von Diebitsch | 5/1783 |
| Roßbander | Hempe | 6/1783 |
| Mayer? | Schander | 7/1783 |
| Bischoff | Gembuß | 8/1783 |
| Konschacke | Stiller | 9/1783 |
| Altert | Kiel? | 10/1783 |
| Scholtz | Rössel | 11/1783 |
| Liebethal | Krause | 12/1783 |
| Kulisch | Kirsch | 13/1783 |
| Fremde | Vogt | 14/1783 |
| Detrich | Runcke | 15/1783 |
| Fräntzel | Mickule | 16/1783 |
| Sabbath | Eckert | 17/1783 |
| Matzke | Virtel | 18/1783 |
| Drescher | Schackschale Schacksale | 19/1783 |
| Hempe | Jansche | 20/1783 |
| Poßnansky | Reim | 21/1783 |
| Schmude | Münch | 22/1783 |
| Seydel | Meinert | 23/1783 |
| Reineck | Döring | 24/1783 |
| Hempe | Becker | 25/1783 |
| Grzmiely | Grzmiely | 26/1783 |
| Junggaß | Heppe | 27/1783 |
| Bucke | Ogroßke? | 1/1784 |
| Otto | Mümmel? | 2/1784 |
| Tilaner | Kayser | 3/1784 |
| Schmude | Kaps | 4/1784 |
| Augart | Dietrich | 5/1784 |
| Schäffer | Viehback | 6/1784 |
| Tauchmann | Hirsekorn | 7/1784 |
| Gerber | Kiefel | 8/1784 |
| Liebethal | Knur | 9/1784 |
| Hirsch | Büttner | 10/1784 |
| Fincke | Gomille | 11/1784 |
| Märtner | Grude | 12/1784 |
| Roßdeutscher | Fabian | 13/1784 |
| Moritz | Kupke | 14/1784 |
| Dreßler | Fuchs | 15/1784 |
| Nitschke | Rudel | 16/1784 |
| Matzke | Virtel | 17/1784 |
| Reuter | Girschmann | 18/1784 |
| Gerlich | Ziskale | 19/1784 |
| Sternitzky | Rudel | 20/1784 |
| Francke | Viertel | 21/1784 |
| Kosacke | Nowack | 22/1784 |
| Hanisch | Neumann | 23/1784 |
| Kemmer | Nitschke | 24/1784 |
| Kayser | Jonietz | 25/1784 |
| Stein? Rein? | Kannewitscher | 26/1784 |
| Labitzky | Labitzky | 27/1784 |
| Kordele | Wollner | 28/1784 |
| von Werner | Kayser? | 29/1784 |
| Eckardt | Kahle? Kegl? | 1/1785 |
| Ay | Scholtz | 2/1785 |
| Gnerlich | Bischoff | 3/1785 |
| Kotschote | Gäßler | 4/1785 |
| Buttermilch | Pittwohne | 5/1785 |
| Scholtz | Galumbke | 6/1785 |
| Müntner | Labestin | 7/1785 |
| Stasche | Meinert | 8/1785 |
| Hempe | Bergel | 9/1785 |
| Jammer | Werner | 10/1785 |
| Wuttge | Drzenske | 11/1785 |
| Otto | Zöllner | 12/1785 |
| Strauß | Joniec | 13/1785 |
| Berger | Galumbke | 14/1785 |
| Döring | Galotschke | 15/1785 |
| Goldnau | Kabischke | 16/1785 |
| Krause | Seidel Seydel | 17/1785 |
| Wilde | Anckelmann | 18/1785 |
| Opitz | Taubergast | 19/1785 |
| Dolocke | Mohaupt | 20/1785 |
| Stephan | Mohaupt | 21/1785 |
| Nowack | Kudel | 22/1785 |
| Hincke | Rüdiger | 23/1785 |
| Poßnansky | Mąder | 24/1785 |
| Viehback | Boode Brode | 25/1785 |
| Weyde | Stiller | 26/1785 |
| Kordele | Langner | 27/1785 |
| Heufner | Saußner | 28/1785 |
| Vater | Rudel | 1/1786 |
| Fabisch | Seeliger | 2/1786 |
| Morcke | Zośnik | 3/1786 |
| Kabisch | Reichelt | 4/1786 |
| Zähler | Bittermann | 5/1786 |
| Halm | Sommer | 6/1786 |
| Kynast | Buncke | 7/1786 |
| Kayser | Roßbander | 8/1786 |
| Bau? | Harradinger | 9/1786 |
| Brugass | Kegel | 10/1786 |
| Krause | Kordel | 11/1786 |
| Irmer | Süßmann | 12/1786 |
| Rittermann | Kahle | 13/1786 |
| Ritter | Schmiegel | 14/1786 |
| Günther | Berger | 15/1786 |
| Sohge? | Mätzke | 16/1786 |
| Bischoff | Bergel | 17/1786 |
| Zak? | Hoffmann | 18/1786 |
| Dämmer | Nose | 19/1786 |
| Werner | Dittmann | 20/1786 |
| Sauer | Brussocke | 21/1786 |
| Lubich | Sommer | 22/1786 |
| Labitzky | Scholtz | 23/1786 |
| Surelle | Virtel | 24/1786 |
| Bezahle | Münch | 25/1786 |
| Ditrrich | Schlange | 26/1786 |
| Schauder | Schlensock | 27/1786 |
| Stiller | Seegner | 28/1786 |
| Lausche | Matzke | 29/1786 |
| Behschnitt | Roßdeutscher | 30/1786 |
| Hempe | Jänsch | 31/1786 |
| Hempe | Nowack | 32/1786 |
| Grzmiely | Koschmieder | 33/1786 |
| Becker | Koschel | 34/1786 |
| Janisch | Klemm | 1/1787 |
| Wurm | Schmude | 2/1787 |
| Wende | Kupke | 3/1787 |
| Girschmann | Scholtz | 4/1787 |
| Brode? Blode? | Maretzke | 5/1787 |
| Grzmiely | Kupke | 6/1787 |
| Harter | Kiefer | 7/1787 |
| Fabisch | Pache | 8/1787 |
| Kretschmer | Tißler | 9/1787 |
| Stahn | Reichelt | 10/1787 |
| Schiefer | Junge | 11/1787 |
| Schattmann | Jagt | 12/1787 |
| Riemer | Schubert | 13/1787 |
| Niederführ | Dittfeld | 14/1787 |
| Quikert | Langner | 15/1787 |
| Matzke | Baumast | 16/1787 |
| Garbsch | Poßnansky | 17/1787 |
| Opitz | Stentzel | 18/1787 |
| Gembus | Kothe | 19/1787 |
| Stenger? | Virtel | 20/1787 |
| Kayser | Boode Bode | 21/1787 |
| Strauß | Mąder | 22/1787 |
| Irrdorf | Knur | 23/1787 |
| Junggaß | Viehweg | 24/1787 |
| Nitschke | Wandel | 25/1787 |
| Bielaß | Gerber | 1/1788 |
| Biegert? | Mohaupt | 2/1788 |
| Janisch | Virtel | 3/1788 |
| Stampke | Nowack | 4/1788 |
| Edelmann | Verleyh | 5/1788 |
| Münch | Reimann | 6/1788 |
| Matzke | Hempe | 7/1788 |
| Bartsch | Matzke | 8/1788 |
| Becker | Böhme | 9/1788 |
| Labitzke | Sauer | 10/1788 |
| Poßnansky | Gnilcke | 11/1788 |
| Berger | Wichmann | 12/1788 |
| Thul Thiel | Kitschelt | 13/1788 |
| Winckler | Purschmann? | 14/1788 |
| Brandt | Werner | 15/1788 |
| Zimmerling | Bernothe gesch. Buße | 16/1788 |
| Tießler | Tießler | 17/1788 |
| Wuttge | Stock | 18/1788 |
| Barth | Majuncke | 19/1788 |
| Krause | Korschäger | 20/1788 |
| Jäckel | Müntzenberger | 21/1788 |
| Kowalcke | Graser | 22/1788 |
| Viertel | Opitz | 1/1789 |
| Breßgott | Hansch | 2/1789 |
| Scholtz | Peter | 3/1789 |
| Albrecht | Kessel | 4/1789 |
| Willenberg | Stock | 5/1789 |
| Goldmann | Peucker | 6/1789 |
| Zingler | Jagt | 7/1789 |
| Pache | Pittwohne | 8/1789 |
| Jennor | Hantke | 9/1789 |
| Ernst | Fischer | 10/1789 |
| Krause | Geißler | 11/1789 |
| Peterwitz? | Wandel | 12/1789 |
| Hollfeld | Krause | 13/1789 |
| Wandel | Hempe | 14/1789 |
| Fischer | Anders | 15/1789 |
| Bartolotti | Wolff | 16/1789 |
| Bürg | Zośnik | 17/1789 |
| Virtel | Hempe | 18/1789 |
| Kordele | Zebrantke | 19/1789 |
| Rabe | Schmiegler | 20/1789 |
| Krause | Kayser | 21/1789 |
| Stiller | Rudnick | 22/1789 |
| Virtel | Halm | 23/1789 |
| Klappert | Tyrocke | 24/1789 |
| Buncke | Mohaupt | 25/1789 |
| Bossock | Majuntke | 26/1789 |
| Drescher | Keller | 27/1789 |
| Zośnik | Stock | 28/1789 |
| Rabe | Brussocke | 29/1789 |
| Dauer | Kubitze Kuhbitze | 30/1789 |
| Berger | Bernothe | 1/1790 |
| Liche | Mithmann | 2/1790 |
| Alt | – | 3/1790 |
| Feige | Remane | 4/1790 |
| Moritz | Kupke | 5/1790 |
| Werner | Zośnik | 6/1790 |
| Kretschmer | Scholtz | 7/1790 |
| Heydelau | Werner | 8/1790 |
| Gerber | Keil | 9/1790 |
| Keller | Mohaupt | 10/1790 |
| Kabischke | Schneider | 11/1790 |
| Glaser | Zimmer? | 12/1790 |
| Hamon | Lorentz | 13/1790 |
| Freßdorff | Tißler | 14/1790 |
| Scheigert | Virtel | 15/1790 |
| Geisel? Giesel? | Wirobke | 16/1790 |
| Werner | Nitschke | 17/1790 |
| Kröger | Galcke | 18/1790 |
| Grammatte | Mithmann | 19/1790 |
| Müchel | Hahn | 20/1790 |
| Seeliger | Weigert | 1/1791 |
| Scholtz | Krause | 2/1791 |
| Zośnik | Brussocke | 3/1791 |
| Gammert | Jagt | 4/1791 |
| John | Reichelt | 5/1791 |
| Scholtze | Garbsch | 6/1791 |
| Brussocke | Marcke | 7/1791 |
| Poßnansky | Feuerstein | 8/1791 |
| Würger? Winger? | Wilcke | 9/1791 |
| Behschnitte | Roßdeutscher gesch. Brussocke | 10/1791 |
| Alt | Zimmermann | 11/1791 |
| Zwilling | Poßnansky | 12/1791 |
| Kabischke | Lohmann | 13/1791 |
| Hempe | Seydel Seidel | 14/1791 |
| Kricke | Wieder | 15/1791 |
| Laube | Gellbrich | 16/1791 |
| Schreiber | Krause | 17/1791 |
| Stock | Scholtz | 18/1791 |
| Nöldner | Tyrocke | 19/1791 |
| Schmude | Nöldner | 20/1791 |
| Liebethal | Gorstelle | 21/1791 |
| Kluge | Nowack | 22/1791 |
| Zimmerling | Kamnitzke | 23/1791 |
| Virtel | Brucke | 24/1791 |
| Pfeiffer | Vogt | 1/1792 |
| Korschegner | Gomille | 2/1792 |
| Horn | Boode | 3/1792 |
| Scholtz | Poßnanski | 4/1792 |
| Prudnick | Saußner | 5/1792 |
| Pechinsky | Bernothe | 6/1792 |
| Sauer | Brussocke | 7/1792 |
| Peter | Wurm | 8/1792 |
| Pittwohn | Boode | 9/1792 |
| Patrias | Keller | 10/1792 |
| Tyrocke | Wollnitzke | 11/1792 |
| Steinhorst | Kamintzki | 12/1792 |
| Kunder | Barabaß | 13/1792 |
| Nase | Schmiegel | 14/1792 |
| Stein | Tißler | 15/1792 |
| Pitsch | Werner | 16/1792 |
| Graser | Viback Vibak | 17/1792 |
| Muckkulle | Gammer | 18/1792 |
| Wolnitzke | Tirocke | 19/1792 |
| Tilg Tilgner | Resner | 20/1792 |
| Vatter | Viertel | 21/1792 |
| Heissig | Depke? | 22/1792 |
| Faelbrich Felbrich | Bittermann | 23/1792 |
| Tschiskalle | Wuthke | 23a/1792 |
| Huelle | Wilcke | 24/1792 |
| Sorelle | Schumann | 25/1792 |
| Wollnitzke | Stock | 26/1792 |
| Kitschelt | Münzeberger Müntzenberger | 27/1792 |
| Stiller | Füback | 28/1792 |
| Korsücke Korsicke | Barrabass | 29/1792 |
| Strich | Keyl Keil | 30/1792 |
| Bascht | Fischer | 31/1792 |
| Keiser Keyser | Kluge | 32/1792 |
| Windschiegel | Cannewitscher | 33/1792 |
| Risspander | Hiersekorn Hirsekorn | 34/1792 |
| Klein | Kubke | 35/1792 |
| Ciskalle | Nowack | 36/1792 |
| Scheugart | Speck | 37/1792 |
| Sternitzke | Tirocke | 38/1792 |